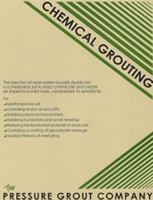 Chemical/Permeation Grouting is a grouting technique that transforms granular soils into soft sandstone-like masses via permeation with a low viscosity grout. Chemical Grouting is a form of permeation grouting; in other words, when used in granular soils, chemical grouting permeates the spaces between the soil particles, binds them together, and improves the soil's shear strength. Other forms of permeation grouting uses regular cement or ultrafine cement, as needed, to permeate granular soils.
HOW IT'S DONE
Typically, a pipe is first grouted into a predrilled hole. The grout is injected under pressure through the ports on the pipe. The grout permeates the soil and solidifies it into a sandstone-like mass. The grouted soil has increased shear strength, and reduced permeability.
BENEFITS OF CHEMICAL GROUTING
The chemical/permeation grouting technique has been used to underpin existing foundations, create excavation support walls, create water cutoff walls and stabilize soils for tunneling. A key advantage of chemical/permeation grouting is the ability to introduce grout into soil pores without any essential change in the original soil volume and structure, thus changing the support capability of granular soils without disturbing them. Another advantage is the ability to be less disruptive and enable tunneling to proceed without over-excavation. Also,download our company brochure about this technique.
Slideshow Of Chemical Grouting Photo Images