Compaction Grouting is a technique that displaces and densifies loose/soft soils resulting in higher density and higher shear strength of the surrounding soil mass. The process includes staged injections of low-slump, low-mobility aggregate grout—in other words, a very stiff grout mixture – under relatively high pressure with full control of grout flow.
HOW IT'S DONE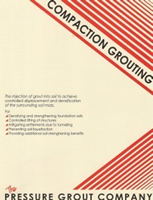 Compaction grouting uses controlled grout displacement to increase the density of soft or loose soils. It utilizes a thick, viscous, cement-like mass that is designed to displace and densify the structure of the soil matrix. It is typically used for liquefaction abatement, thwarting future settlements, structural lifting, and remediation of sinkholes.
This highly effective grouting technique increases the soil density, thus increasing shear strength, bearing capacity and eliminating settlements. This is accomplished by using a high pumping pressure to expand a bulb of very low slump grout through an injection pipe. The expanding mass of grout compacts the soil around each point that it is discharged. The most improvement can be achieved in granular, alluvial soils or man-made fills. The Pressure Grout Company has developed applications for densifying soft soils and clays, including Bay mud and peat.
A small diameter (1.5 – 3 inch) steel casing is advanced through the zone to be improved, and a stiff mortar-like grout is injected at high pressure to displace and compact the surrounding soils. Pumping is continued as the grout casing is withdrawn to the next stage.
BENEFITS OF COMPACTION GROUTING
Compaction Grouting results in a denser soil that is less susceptible to liquefaction and lateral spreading. Compaction Grouting also improves the soil's global shear strength through the improvement of the displaced soils as well as the grout body itself.
The principal applications for Compaction Grouting are:
Reduction in the risk of soil liquefaction and lateral spreading under seismic loading
Improvement of soil bearing capacity
Elimination/reduction of settlements for future or existing structures
Densifying of soil following the passage of a tunneling machine
Controlled structural lifting and leveling
Densifying and strengthening foundation soils against sinkhole formations
COMPACTION GROUTING IN ACTION

In over 55 years of geotechnical specialty work, The Pressure Grout Company has used compaction grouting to improve the ground beneath settling structures, improve soils for liquefaction mitigation, provide thrust block to prevent lateral spread in case of seismic action, remediate existing or threatening sinkholes, and re-level roads, bridges, towers and existing structures.
Click on our video to watch compaction grouting in action during our recent project at Cabrillo High School in Long Beach, California.
Also,download our company brochure about this technique.
Slideshow Of Compaction Photo Images