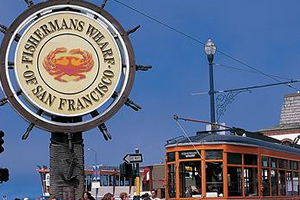 Pier 45, Fisherman's Wharf San Francisco
One of the largest compaction projects ever undertaken was the 4½ acre Fisherman's Wharf Pier 45. San Francisco's Fisherman's Wharf area was among the hardest hit by 1989's Loma Prieta earthquake.
The Pier was supported partly on wood pilings and partly on dredged fill. A thorough geotechnical investigation after the Loma Prieta earthquake showed that the fill material, which extended to a depth of 30 feet, was liquefiable.
FEMA and the project's Geotechnical Engineer concluded that Compaction Grouting was the most cost-effective ground improvement technique for this site and selected it to densify the dredged fill material for the mitigation of soil liquefaction.
The Pressure Grout Company used in-house, custom built equipment, to install more than 6,000 injection points into the shaky foundation to render it non-liquefiable.Because of the presence of the old wood piles along the Pier and because of the fragile conditions of the concrete walls special attention was exercised together with monitoring to detect any adverse movements of these structures. As a result of our foundations work, Pier 45 is still a happy memory along many tourist trails, and a local landmark for all to enjoy.